P
lenty of good ideas just sit off-the-shelf, waiting for Mr. Entrepreneur to bring them to life.

Ready to pick one?
U guy says:

« - Okay!
- I have one!
- But hey!
- I have no clue on how to craft that masterpiece.
- I'm like stuck in the middle.
- Anyway, I still dream that it could become a killer idea one day. »


Listen:

dreams are all right, they are the fuel of entrepreneurship spirit and motivation.


It seems like you have to cross a huge canyon between where you are now and where you dream to be in the future, Am I wrong?



What should you do in the meantime?
How will you walk your way?


Have you ever heard about creating compelling unique fresh ideas?
Yes, this very unique idea, that has the perfect fit with your strategy.


Do you even have a strategy by the way?


I mean a written one that you could pitch in less than 3 minutes?

Have you tested it? Does it work? Do you feel comfortable with it?

Plus...
...you already learned that strategy stuff is useless if you never execute it, right?
How achievable are your plans? Can you live with them?


So ultimatly, could you go-to-market with your idea?
How bad do you believe you could?

The mission of Innovation21,... guess what ? :
Help you cross that chasm!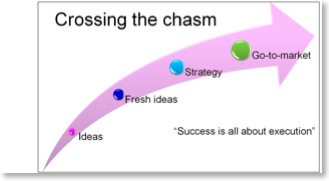 Because, I was struggling like everyone with the same challenge of going « coast-to-coast » from a simple idea to successful innovation, I believe sharing experience about innovation factors would benefit you guy's.

Be inspired, it starts now!